Owhkie...I have like so much to blog about...unfortunately, this a-lot-to-blog-about phase came at the wrong season..for now is Evie's lazy season..
HEE!
Lets start with urm...2 days ago.....
I think it was a Friday..yeap..Friday...
Being the still-enthusiastic me, I went to the gym in the morning for this dance class and I almost died...
Lucky my heart did not betray me...honestly, I so need to get my cardio up...almost die ddi~
Mwehehehe~
That's not the point...the point was that me and my friends who happen to be rreeaalllyy sampat decided that Friday should be jakun day...
So what did we do?? Since we were all so poor and broke...we decided to save money...and have a picnic...
I brought Tuna from home
Shyuan brought Cucumber
Kah Meng brought Bread
Jian brought the Mayonnaise
Owh owh! Shyuan also brought really good coleslaw (WITH RAISINS!) and boiled egg...hee~
And the drinks?? Water for home..
NOW YOU KNOW HOW POOR WE ARE!Hee~
I was already rushing from 1u when Jian called and asked where i was,
My answer:
"I'm coming lar...don't rush me..I need to drive safely"
And those sampat friends of mine started laughing...-_-''
I drove to Jalan Kasah (YES! I drove all the way down to Bangsar!)..where I met those 3 and we headed to Lake Gardens..
Found a spot by the playground..and MAKAN! (We were all so damn hungry~)
LET THE PICTURES DO THE TALKING: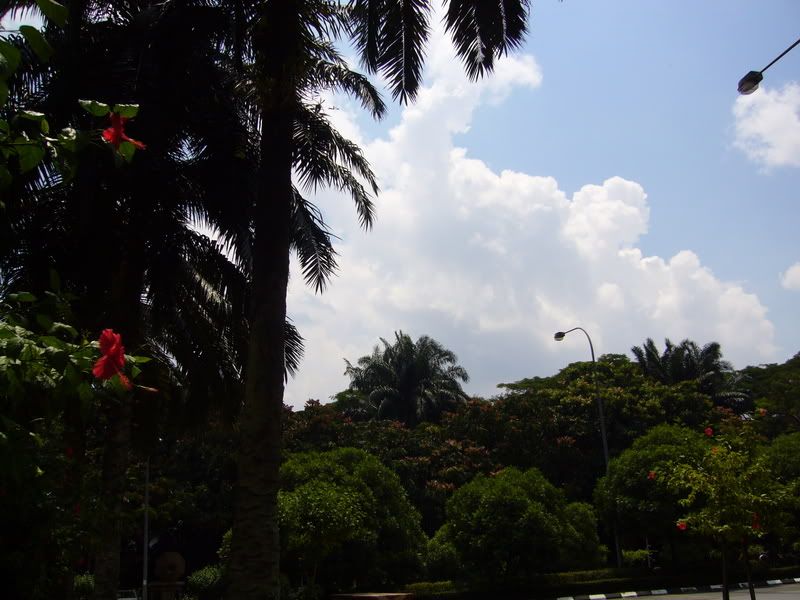 + On a nice day...nice place...jakun people start well..being jakun~ +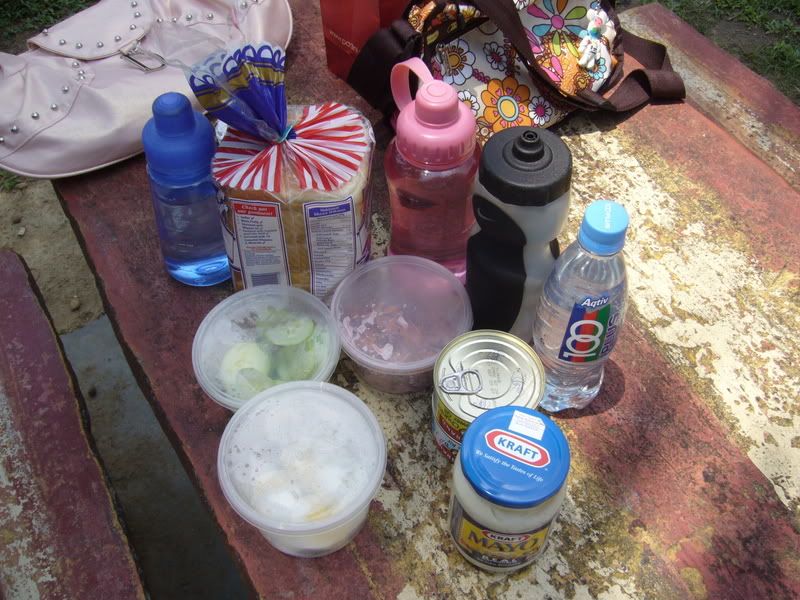 + The ingredients +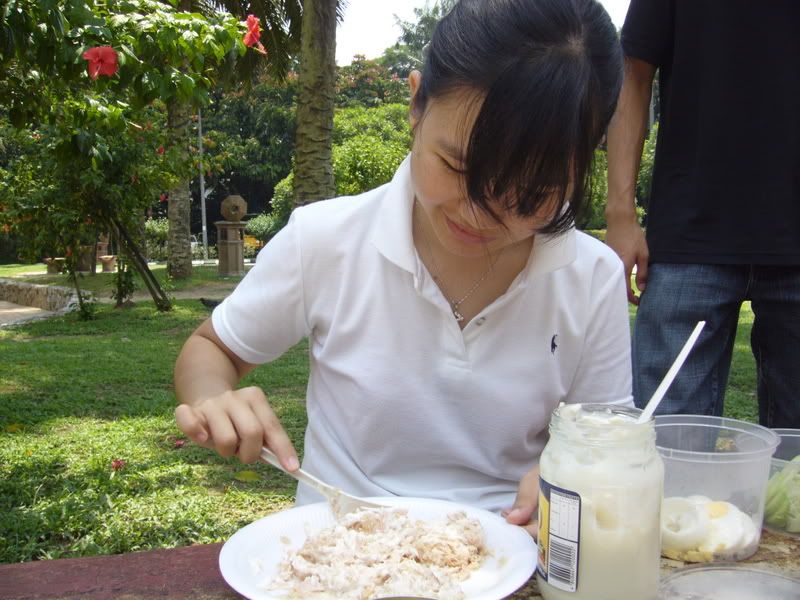 + Lady Boss doing her thing +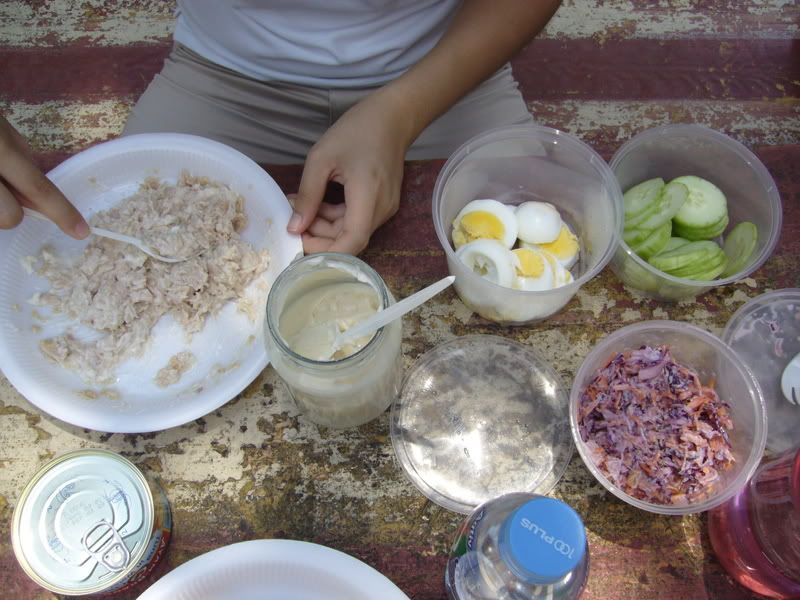 + Sandwich in process...YUM~! +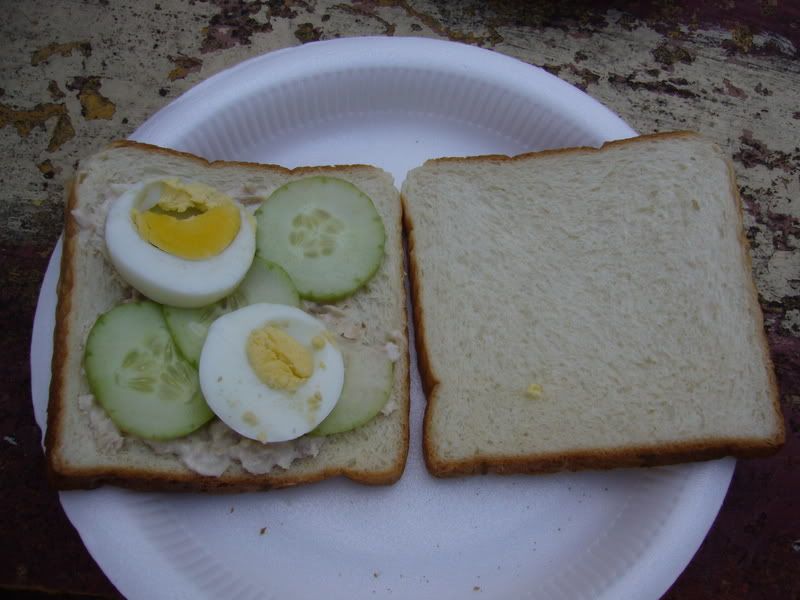 + The finish product +
+ After people eat, people pose..jakuns alike +
Not only we had a picnic...We went for cendol...at some place in Bangsar...I got lost when Kah Meng took like don't-know-how-many-rounds around the area...Cendol was fine....until it became too sweet when all the ice melted..hrm~
That was Friday...on Saturday..I did something...
Wait..let me think..I can't remember..
OWH YEA!
I did my French Manicure! (Which is non-existent now because it looked too horrendous overnight)
Shall show you people the pics of my first attempt.....hee~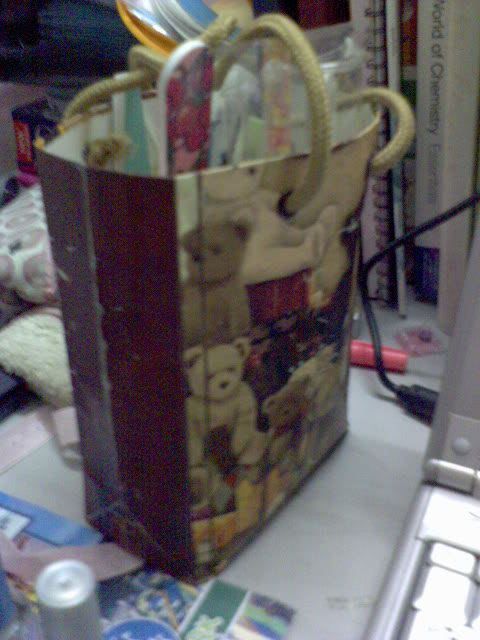 + My manicure/pedicure teddy bear paper bag +
+ The French Manicure set +
+ Still in the process......+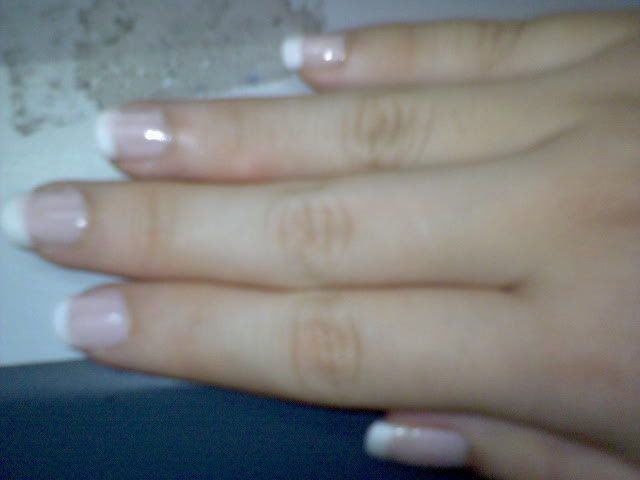 + Done..but can't see too clearly that's why it looks perfect when its not +
And today....today is Sunday!
du-uh~
I went out for my personal training session at the gym to realise my personal trainer is at a course and he did not told me!! *sobs*
I got stood up...APALAR!!
*stomp stomp*
But since i was there...I decided to do simple gym stuff since there weren't any interesting classes...i think my 2 weeks of gym has improved my strength ddi...
Again..that isn't the point of today...the point is..Sam..yes...the Sam who has "neglected" me since forever (HEE!)..smsed me while i was in the gym ranting about how he was alone in 1u and the guy models on the catwalk were too gay for words (o.O)....hee~
So being the nice me who never neglects people, I told him that if he wants to, he can wait until I'm done with my exercise and go teman him...
He did wait....and we walked around for a while and he complained bout the male models wearing plastic as clothes and how his holidays were...
Owh btw, I hope I'm not gonna get into trouble with *cough cough* because I bumped into Sam at 1u...HHHEEEEEEEEEEEEE~!
We were hungry since both had not had our lunch yet...and after a while of indecisive fickle minded-ness...we settled on Dragon-I...
I felt like eating noodles anyway...
So went there to makan...talk talk abit...and we went home......that boy was so blur I was afraid he would not realise he's actually going home..
HEE!!
Glad to see you after a while of neglection lar....HEE~
Nope...no pics....lazy to take...
I'm SLEEPY~!
Owh yea~ I went for breakfast on Saturday morning alone...aaah...the freedom of being able to drive....hee~
It's at this restaurant in Aman Suria known as Kafe Teatime.....I had Chicken Curry Nasi Lemak...which was so filling I had to force myself to down it......and also their Teatime
Teh Tarik
which happens to be
teh tarik
with a sprinkle of chocolate powder...now..HOW CAN I RESIST THAT????? Its chocolate! mwehehehehe~ Of course, there wasn't much chocolate taste...it would be too weird if
teh tarik
is too chocolate-tey...but I really like the
teh tarik
because it wasn't too sweet yet was strong smelling enough...yyyuuumm~
This one got pics....HEE!
+The yummy and owh-so-filling nasi lemak +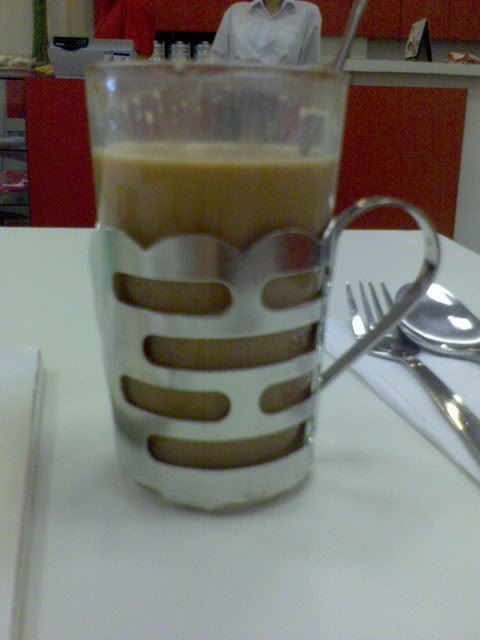 + I heart this teh tarik! +